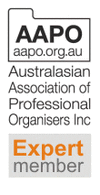 Your Professional Organiser, Clutterfly®, works in manageable stages, as it's best to approach things one step at a time.
Before you know it your home will have 'metamorphosed' into the haven you have dreamt of!
This also means that we can easily determine what stage you may be at when starting. Either way, we will always take time to re-assess after each stage.
We recommend that you involve a professional organiser as early as possible in your journey. Many clients try to do the first stages themselves, but easily get stuck and find it hard to continue. After all, there is usually a reason that things have become the way they have. We can help you 'kick start' your decluttering journey. Head to the contact page to enquire further.
IN HOME – Professional Organiser Visit
This is where you get hands on help from an expert professional organiser with decluttering and organising your home. At the start of a session we discuss your current routine and frustrations in the home. We will create a new vision for your home, to ensure we tailor the sessions to your needs and reach your desired outcome.
For those who think they just need a bit of advice to help point them in the right direction, I offer a 45min virtual coaching call. This will help you kick off your DIY decluttering/organising journey & a chance to ask questions. Many find that scheduling calls at various points throughout the journey helps with accountability & to keep them on track with their plan.
For those interested in becoming an organiser, I offer mentoring calls. A chance for you to ask me directly, those burning questions you have about getting started in the industry and gain an insight into my journey over the last 8.5yrs. You can book a one off call or scheduled regular support calls to help guide you through your journey. Click here for more detailed information.
STAGE 1: DECLUTTER
Are you a bit of a 'Bowerbird'? If you are overwhelmed by 'stuff' then we can work through each area and room to clear the space. It is always up to you what you want to part with, but usually once you see it all laid out, it's easier to part with the excess.
STAGE 2: SPACE OPTIMISING
Advice on shifting the room layout around so that it functions better. Maximises space and creates a better flow through the house as well as increasing storage options. Think of it as 'space-scaping'.
STAGE 3: ORGANISING
Implementing effective organising systems tailored to your needs & level of organisation. Tame The Paper Piles to keep on top of paying bills etc and it could even save you money!
STAGE 4: AESTHETICS
Once we have decluttered and organised you will be amazed at how much better your space looks. Adding tailored organisation solutions helps with creating a sense of order. So not only will you be excited about your new clutter-free home but there might be less need to redecorate!
This is a service I wish I'd done years ago, now I've had the pleasure of meeting Georgie. She is the Beez-knees!!
North Sydney, Anne